GP Battery Experts
We speak with strictly safety and compliance
GP Batteries meets and exceeds the highest international safety standards.
GP Batteries's IEC62133-certified NiMH and Lithium-ion batteries offer quick market penetration into 54 certification body scheme participating countries*.
GP Batteries manufactures 4 out of 8 brands of certified primary 9V brands complying with UL217 specifically for Smoke Alarm applications.
GP Batteries is amongst the first batch of Lithium-ion battery brands to qualify for the voluntary CQC mark in China, as well as UR, BIS, and MC marks in the USA, India and Malaysia.
With UN38.3 certification, all GP Lithium batteries are easily transported by air and sea to 5 continents*.
*Subject to national deviation, additional tests may be needed.

For More Details - Safety & Compliance
China and Singapore
GP Batteries' quality assurance centers, located strategically in China, Singapore and Hong Kong, provide full range R&D facilities for quality and safety assurance.
Our laboratories in China and Singapore are well-recognized by more than 90 international regions under the International Laboratory Accreditation Cooperation-Mutual Recognition Agreement (ILAC-MRA).
China (Shenzhen) - Chemical & Calibration Laboratory
CNAS (China National Accreditation Service for Conformity Assessment) Accreditation

Testing scope

2011/65/EC (RoHS Directive)
2006/66/EC (Battery & Accumulator Directive)
Battery Performance Test in Singapore
SAC-SINGLAS (Singapore Laboratory Accreditation Scheme) Accreditation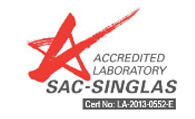 Testing scope

IEC 60086-1
IEC 60086-2
IEC 60086-5
GB/T 8897.1 & GB/T 8897.2
ANSI C18.1M Part 1
IEC 61951-2
Hong Kong Science Park
Our GP Hong Kong laboratory is the first in HK to be certified under UL WTDP (Witnessed Test Data Program) and one out of only five UL CTF (Customers Testing Facilities - Stage 2) certified laboratories in China and Hong Kong.
IEC Manufacturer's Testing Laboratory
CTF (Customer's Testing Facilities (CTF) - Stage 2)
Reliability Test for Benchmarking
Test conditions to be agreed with clients
GP has a strong management system in place. Our factories are certified with ISO9001:2015 (Quality Management System), ISO14001:2015 (Environmental Management System) and ISO45001:2018 (Occupational Health and Safety Management System).
Moreover, GP is a member of amfori, the leading global business association for open and sustainable trade. We abide by amfori BSCI's Code of Conduct for social responsibility and our factories are independently audited to comply with amfori BSCI standard for social performance.

ISO17025
Our China and Singapore laboratories are ISO17025 certified – a standard ensuring most reliable testing and calibration services.
Awards
GP Batteries' continuous commitment to high standards is recognized by customers and the industry.
EcoVadis Bronze Medal:
In the latest EcoVadis sustainability assessment, GP Batteries was awarded the Bronze Medal, a recognition for companies that perform better than 50% of the companies that undergo the assessment in four important aspects in Environment, Labour Practices and Human Rights, Ethics and Sustainable Procurement.
Ecovaids assessment has taken into account international standards such as Ten Principles of the UN Global Compact, the International Labour Organization (ILO) conventions, the Global Reporting Initiative (GRI)'s standards and the ISO 26000 standard.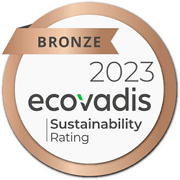 Most Valuable Supplier and Green Partner:
This award was presented by Panasonic Corporation to recognize GP Batteries' contributions as a most valuable supplier, and we are also authorized by Sony as Green Partner.
Asia Quality Best Practice Award:
Handed out by the International Six Sigma Council, the gold award celebrates GP Batteries being top in quality improvement.
MAKE (Most Admired Knowledge Enterprise) Award:
The award recognizes organisations which out-perform their peers in creating shareholder's value by transforming tacit and explicit enterprise knowledge and intellectual capital into superior products/services/solutions.
Zero Waste to Landfill Environmental Claim Validation:
Our factories are certified by UL (Underwriters Laboratories) to achieve Zero Waste to Landfill Gold (over 95% waste diversion) or Silver (over 90% waste diversion) designations. GP is the first in the battery industry to receive ZWTL Validation for its two battery manufacturing plants in ASEAN in December 2019, and the first manufacturing facility in Vietnam to earn ZWTL validation in April 2021.