With a high safety standard and a longer service life, Nickel-metal hydride (NiMH) batteries are an ideal energy choice for industrial applications, particularly suitable for high drain devices and those that require frequent battery replacements. As the largest producer of NiMH batteries (excluding EV), we offer you a wide range of products to satisfy your every specific need, from telecommunication and home appliances, to emergency call and lighting.
Standard Series

The core series deliver balanced performance between charge retention, Power discharge and cycle life. It's optimized formulation also capable to deliver one of the highest energy capacity among all the competition.

High Drain Series

The nickel-metal hydride High Drain Series suits devices that require a high discharge rate, such as motor loading applications. These rechargeable batteries are safe, making them suitable for both residential and commercial needs.

Long Cycle Life Series

The Long Cycle Life ReCyko+ Series is designed for applications that require the longest charging and discharging cycle life – up to 1,000 cycles. It offers the highest charge retention, retaining over 85% charge capacity after one year, and making it especially suitable for devices such as flashlights.

Endurance and Longer Life Series

GP Batteries has introduced the Endurance and Longer Life Series to meet increasing demand for robust batteries able to cope with extreme or wide-ranging temperatures and conditions. The range's formulation enables batteries to deliver up to 10 years of service life — suitable for backup applications and operating temperatures ranging from -35°C to 85°C.
NiMH Series: Performance Comparison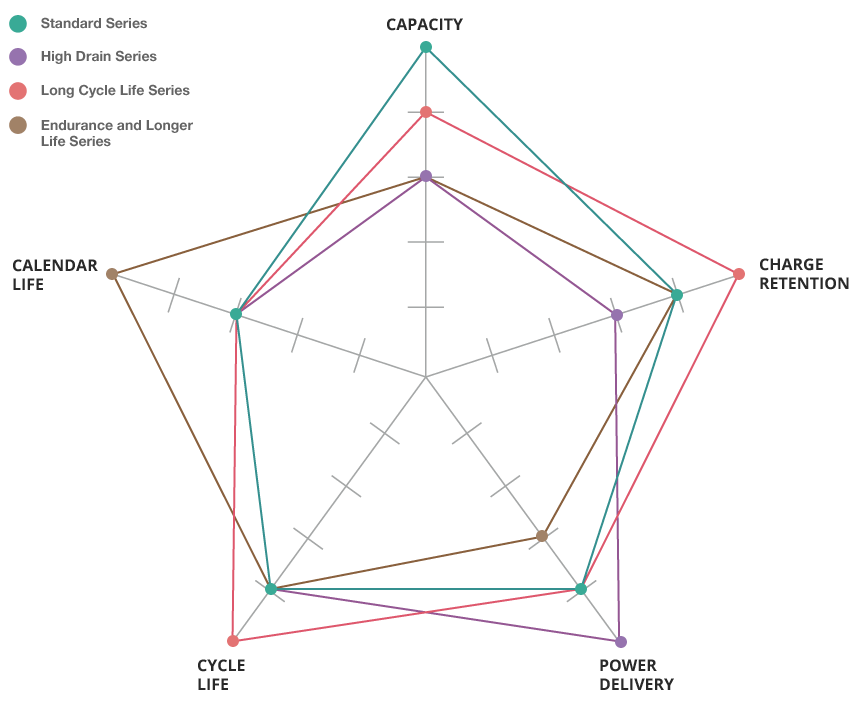 Batteries Selection Guide
Best Suitable Suitable
Applications
Standard
High Drain
Long Cycle Life
Endurance and
Longer Life
Communication
Cordless Phone
Walkie Talkie
Energy Storage
System
Solar
Standby
Lighting Device
Emergency Light
LED Light
Flashlight / Lanterns
Motor Driven
Devices
Motor Toys
Lawnmower
E-Shutter
Electric Bottle Opener
Personal Care
Shaver
Toothbrush
Trimmer
Facial Cleansing Device
Dental Water Jet
Rideable
eBike
Electric Wheelchair
eScooter
Golf Cart
Smart Home
Door Cam
Baby Monitor
Telematics
eCall
Tracking
Alarm
Toys
Electronic Gaming Device
Game Controller
Toys
Vacuum Cleaner
Stick Type Vacuum Cleaner
Robotic Vacuum Cleaner
Misc
Nail Gun
Home Entertainment Remote Controls
Portable Radios / Speaker
Portable Tape Recorders and Players
Portable TV's
Solar Application
Test Equipment
Medical Equipment
Digital Camera