Cell Size
Model
Dimension (mm)
Nominal
Voltage (V)
Rated Capacity
( mAh )
Typical Capacity
( mAh )
Approx.
Weight ( g )
LSD Type
Max. Discharge
Current ( A )
Diameter
Height
D
D
GP700DH #
33.0
60.0
1.2
7000
7000
155.0
L50-1
7000
D
GP900DH **
33.0
60.0
1.2
9000
9225
170.0
L50-1
45
D
D
GP1100DH
33.0
60.0
1.2
11000
11550
179.0
L50-1
55
Cell Size
Model
Dimension (mm)
Nominal
Voltage (V)
Rated Capacity
( mAh )
Typical Capacity
( mAh )
Approx.
Weight ( g )
LSD Type
IEC
Designation
Diameter
Height
D
D
GP700DHT **
33.0
60.5
1.2
7000
7350
146.0
L80-1
U
# With IEC62133** With UL2054 approval.
GP Advantages
Higher volumetric & gravimetric energy density compared with NiCd & Lead Acid – NiMH is light in weight and small in size
Long calendar life, maintenance free and low cost of ownership
Safety – NiMH is an intrinsically safe chemistry and free from UN38.3 testing, not restricted in air transport
Recyclable and environmentally friendly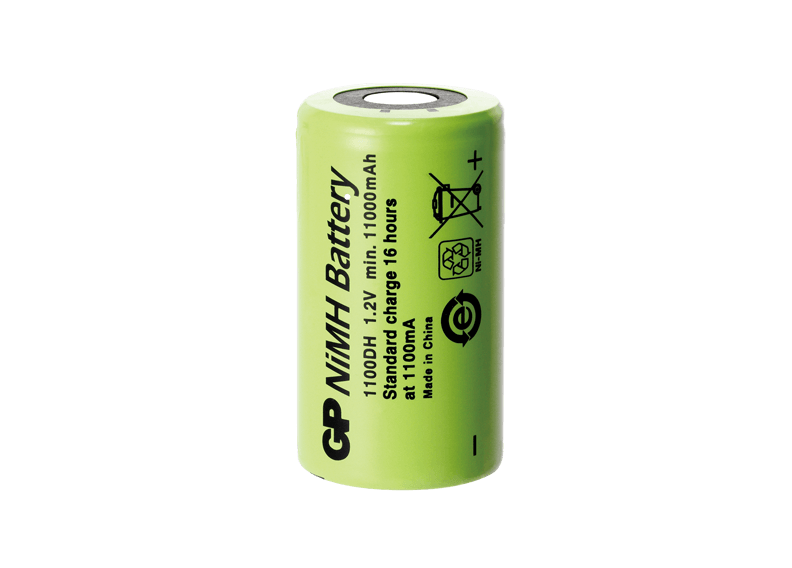 Looking for a customized battery solution? Contact our industrial team for more details.
Contact Us